Brazuca – Official 2014 FIFA World Cup Match Ball
Pharrell Williams celebrated @brazuca surpassing 2 million Twitter followers by letting the popular ball wear his famous hat – @brazuca Hits 2 Million Twitter Followers.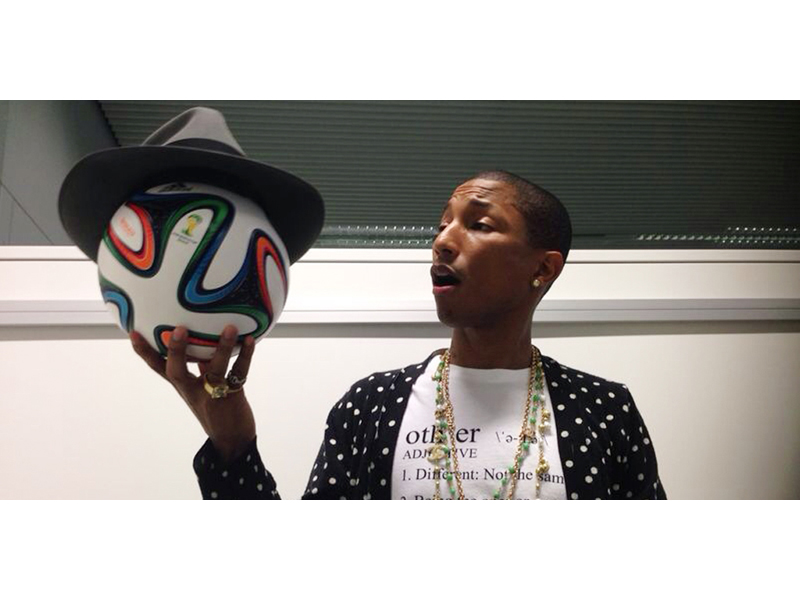 I am personally a @Pharrell fan and sent him a tweet over a month ago to let him know how much my 13-month old baby son loves his song, "Happy," we dance together with his Mom.
Pharrell Williams – Happy (Official Music Video)

On behalf of the Sports Techie community blog and the fan experience, I will send him a link to this blog in hopes of a retweet, if not, no worries, we know Pharrell respects the game of soccer and the adidas Brazuca, the official 2014 FIFA World Cup match ball.
Blogging from our new corporate HQ in Atlanta while at a Starbucks using their free Wi-Fi until our Comcast Internet and cable gets installed while drinking a green tea Frappuccino makes me happy. Best wishes to our community in Seattle. By the way, Shay at the Northlake Mall store says hi, Pharrell.
**This post contains affiliate links and I will be compensated if you make a purchase after clicking on my links.
Made from high-end materials specifically designed to shed water and fly true right off the foot, the adidas Brazuca World Cup Soccer Ball features a seamless, thermally bonded surface so you can put it right where it needs to be. It's passed the rigorous FIFA tests to make sure it's the best ball on the pitch.
Get your very own Brazuca today at adidas.com!
Sports Techie, Understand, I am an affiliate of adidas because I love their products, especially when sports tech is integrated into them such as the Brazuca football and miCoach products.
Read: Introducing adidas miCoach Smart Ball | Sports Techie blog.
Sport and technology go together like Pharrell and his hat, it's simply a good fit.
Happy July 4th to all, wherever you are on this glorious planet.
I will see ya when I see ya, THE Sports Techie @THESportsTechie – http://twitter.com/THESportsTechie
Sports Techie Social Media Networks
Sports Techie Skype: sportstechie
Sports Techie Twitter: @SportsTechieNET:  http://twitter.com/SportsTechieNET
Sports Techie Facebook Fan Page: http://www.facebook.com/SportsTechie
Sports Techie YouTube Channel: http://www.youtube.com/user/sportstechie
Sports Techie Google+: http://gplus.to/SportsTechie
Sports Techie Google+ Community: https://plus.google.com/u/0/communities/103708211458464405078
Sports Techie (Robert Roble) Google+: https://plus.google.com/u/0/+RobertRoble/posts
Sports Techie LinkedIn Group: http://www.linkedin.com/groups/Sports-Techie-2958439
Sports Techie Instagram: http://instagram.com/sportstechie
Sports Techie Pinterest: http://pinterest.com/SportsTechie/
Sports Techie Moby Picture: http://www.mobypicture.com/user/sportstechieNET
Sports Techie Myspace (Bob Roble): http://www.myspace.com/549000677
Sports Techie Flickr: http://www.flickr.com/photos/86791607@N04/
AND
Sports Techie Guy: https://twitter.com/sportstechieguy