Here's a fascinating soccer league table that might surprise you. The biggest clubs in the world are revealed and ranked in this infographic that reveals how many social media followers each has right now. And it's yet another El Clásico at the top with Barcelona and Real Madrid neck-and-neck. Six teams from the Premier League (EPL) unsurprisingly feature in the top 20 and it's Manchester United who is the biggest of these by some stretch. The marketing of top soccer clubs is so important to their income and sustainability and, in particular, the sales of merchandise to a global fan base. The Sports Techie community blog loves football social media!
Check this social league table periodically and you will see that this is a new style "live" infographic that actually updates hourly, thus keeping these follower numbers continually up to date. The big three social media platforms of Twitter, Instagram and Facebook are being checked for updates by footballpredictions.net, the creators of the infographic, in the background in order to make this live table possible.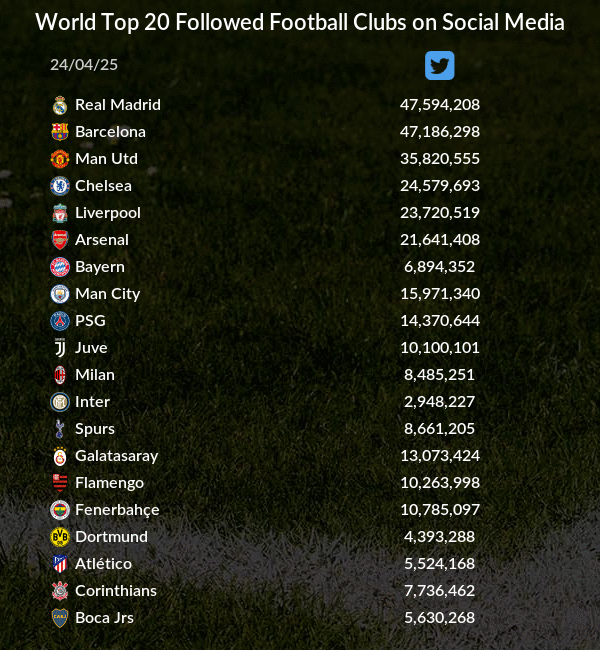 (Source: Footballpredictions.net)
Sports Techie, soccer and social media go together like people and their smartphones.
Other data driven numbers that caught THE Sports Techie digital eye:
Barca and Real are so close in follows as noted above it's truly amazing for both Spain and La Liga.
ManU certainly crushes it with social media followers over fellow EPL teams.
Interesting that Juvenus at 6 is ranked just below FC Bayern Munich at 5 because of the German powerhouses presence on Facebook numbering 13 million more than Juve even though the Italian powerhouse has more Twitter and Instagram followers.
PGG signed Neymar away from Barca yet they seem stuck at 8 ever wishing for a top 5 standing, something that could happen it they maximize Instagram while staying steady with Facebook.
Now I'm a pretty serious soccer fan all-in-all but when I got to team 12 (at that hour) it was Galatasaray, or Galatasaray Spor Kulübü as they are known throughout Turkey with their HQ located inside the European portion of Istanbul. In the Fenerbahçe neighbourhood of Istanbul, Fenerbahçe S.K., also know as simply Fenerbahçe, came in ranked 17. Who knew Istanbul was so social media savvy with soccer!
Finally, fascinating that in a country as large as Brazil, with the amount of Portuguese speaking futbol loving fans as they sport, their highest ranked squad is Flemengo at 15. Overall, when you add in Corinthians at 16 and Boca Jrs at 20, it becomes more telling in terms of social media reach and popularity. Might one of these three organizations sky rocket to the top ten as more and more Brazilians get connected online into the 21st century?
Thanks for the revealing sports tech,
footballpredictions.net.
See ya later sportstechie in Seattle, Atlanta and around the world!
Sports Techie Social Media Networks
Sports Techie Twitter: @SportsTechieNET: http://twitter.com/SportsTechieNET
THE #SportsTechie Twitter: @THESportsTechie: https://twitter.com/THESportsTechie
Sports Techie Facebook Fan Page: http://www.facebook.com/SportsTechie
Sports Techie YouTube Channel: http://www.youtube.com/user/sportstechie
Sports Techie Google+: https://plus.google.com/u/0/b/108376451503395073827/
Sports Techie Google+ Community: https://plus.google.com/u/0/communities/103708211458464405078
Sports Techie (Robert Roble) Google+: https://plus.google.com/+RobertRoble
Sports Techie LinkedIn Group: http://www.linkedin.com/groups/Sports-Techie-2958439
Sports Techie LinkedIn (Robert Roble): https://www.linkedin.com/in/robertroble
Sports Techie Instagram: http://instagram.com/sportstechie
Sports Techie Pinterest: http://pinterest.com/SportsTechie/
Sports Techie Moby Picture: http://www.mobypicture.com/user/sportstechieNET
Sports Techie Myspace (Bob Roble): http://www.myspace.com/549000677
Sports Techie Flickr: http://www.flickr.com/photos/86791607@N04/
Sports Techie Vine: https://vine.co/u/906354614369136640
Sports Techie Quora: https://www.quora.com/Bob-Roble
Sports Techie Vimeo: https://vimeo.com/user36773456
Sports Techie Skyword: http://robertroble.skyword.com/
Sports Techie Skype: sportstechie
Sports Techie Periscope: Sports Techie
Sports Techie Snapchat: sportstechie
AND
Sports Techie Guy: https://twitter.com/sportstechieguy